HZ review by juicingjournal.com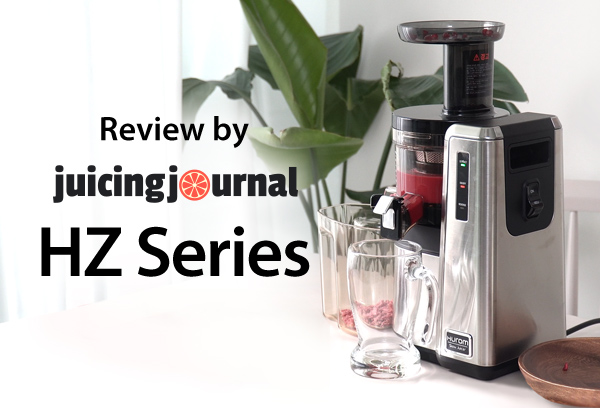 The HZ Slow Juicer is the flagship juice extractor from Hurom equipped with the best and latest technology. It features improved juice extraction efficiency, easier cleaning and the ability to make ice cream, thanks to its 43 RPM motor.
All Hurom cold press juicers are pleasing to the eye but Hurom HZ really caught my attention. Its sleek stainless steel finish along with the LED indicator make it really stand out.
The LED indicates the status of the machine whether it's on or off, if it's in extraction mode, or in reverse mode. Sadly, you still have to use the manual button to operate the machine.
.
.
How convenient is that?
Hurom HZ's complimentary accessories justify the high price point. If you want to add pulp to your juice you can use the coarse strainer, it's also ideal for juicing soft fruits.
Most of the time you'll be good with the fine strainer if you don't want pulp in your juice. If you're craving for something sweet you can make ice cream with your ice cream strainer, a healthy ice cream preferably.
The only disadvantage of slow juicers is you'll have to chop your produce into small pieces but the quality of the juice is worth the time and effort.
.
.
Juice Quality
The Alpha technology developed by Hurom allows the user to extract fresh, natural tasting juice. The quality is full-bodied and flavorful.
It produces the highest possible yield by methodically pressing the produce, and expelling bone dry pulp as it juices. With an auger speed of only 43 RPM and the spinning brush speed at only 17 RPM, the juice is gently mixed within the drum.
It results in less froth and a better overall taste.
In addition to a decadent taste, the juice is packed with nutrients, antioxidants, and vitamins. Plus, the lever allows you to control over the amount of pulp you allow in your juice.