H-AA Review by juicerjourneyblog.com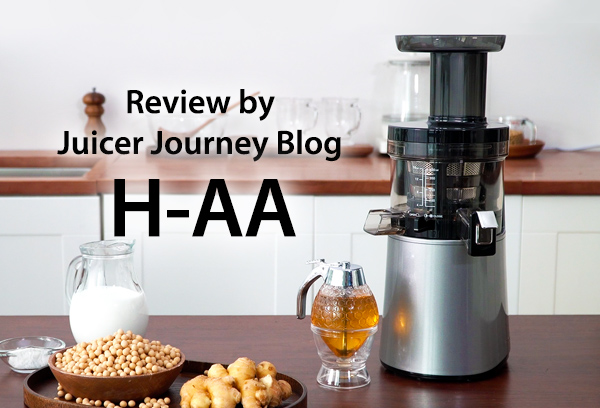 Features and Benefits of the Hurom H-AA Slow Juicer
Masticating Juicer: The Hurom H-AA Slow Juicer is a top-of-the-line juicer that offers an exceptional juicing experience. As a masticating juicer, the Hurom H-AA uses a unique process that gently squeezes fruits and vegetables to extract the maximum amount of juice while preserving vital nutrients and enzymes.
Design: One of the standout features of the Hurom H-AA is its sleek, modern design. The juicer's body is made from high-quality materials, and its finish gives it a premium look and feel. The machine is also relatively compact, making it an excellent option for those with limited counter space.
This machine is also designed to be easy to clean, with its parts being dishwasher safe.
The machine also comes with a range of accessories, including a juice container, pulp container, cleaning brush, and fine and coarse strainers.
Versatility: Another notable feature of the Hurom H-AA is its versatility. The juicer can handle a wide variety of fruits and vegetables, including leafy greens, hard vegetables, and even nuts and soybeans. This makes it an excellent choice for those who want to experiment with different ingredients and recipes.
Performance: In terms of performance, the Hurom H-AA does not disappoint. The slow juicing process results in a higher yield of juice with less foam and pulp. The juice itself is smooth and flavorful, and the machine is relatively quiet compared to other juicers on the market.