M100 Review by Sports-insider.de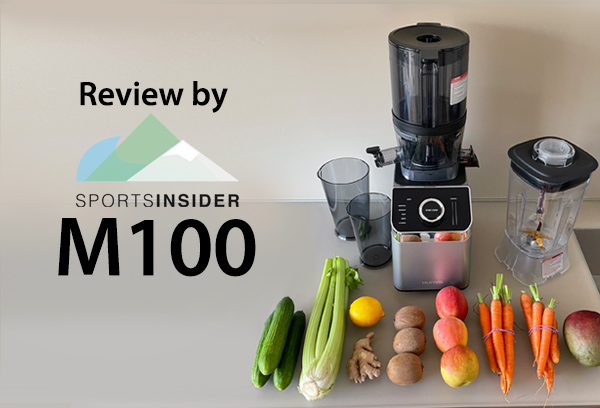 Hurom M100 review: One device – a thousand possibilities

A device that combines slow juicer and blender in one is an excellent choice for any family who wants to try a variety of recipes without having to worry about multiple devices. Here are a few reasons why having a slow juicer and blender in one device with the Hurom M100 is super convenient for us:
Space saving: Since the Slow Juicer and Blender are combined in one device, you only need one place on the work surface to use both functions. This not only saves space, but also time and effort when setting up, cleaning and storing the devices. We no longer put the Hurom M100 in the closet because we use it every day.
Versatility: A slow juicer and blender combo is extremely versatile and can prepare a variety of recipes. With such a device you can make fresh juices, smoothies, milkshakes, sauces, soups, sorbets and much more. There are simply no limits to creativity and even children can use it very easily.
Simple operation: since both functions are combined in one device, handling is simple and uncomplicated. There is no need to switch between different devices or fill up every drawer with unused accessories. That's a real advantage for us, because there's a lot less chaos in the kitchen.
Healthy eating: A slow juicer and blender combo is ideal for anyone interested in healthy eating. By juicing fruit and vegetables with the slow juicer and mixing smoothies, plant milk or spreads in the blender, many important nutrients can be absorbed that are essential for a balanced diet. And that is of course particularly important with children, because they are still growing and have special requirements when it comes to healthy and balanced nutrition. Plus, it tastes so much better fresh.
Time Saver: Another benefit of using a slow juicer and blender combo is that it saves time. There is no need to use and clean multiple devices, minimizing wasted time and effort. The Self Cleaning Mode of the Hurom M100 absolutely convinced us. Because that way we have more quality time with the children in everyday life.
All in all, a slow juicer and blender combo is a practical and versatile device that supports healthy eating and saves time and space. With a wide range of functions and simple operation, it is an excellent choice for everyone who likes to prepare fresh juices and smoothies.