H310A Review by genussdeslebens.de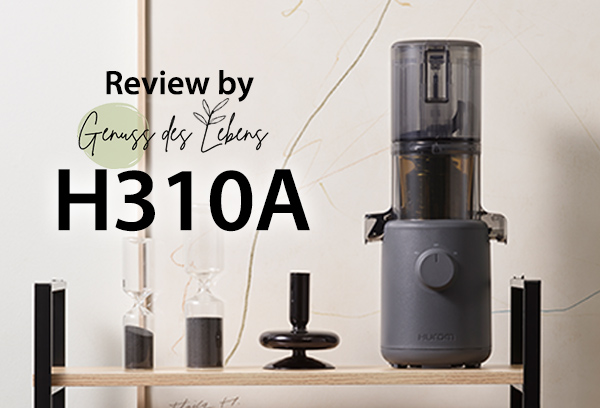 What makes the Hurom 310A special?
1. Large hopper: What impressed me the most about the H310A was the large hopper. You hardly need to chop any fruit and you can put it in whole. For example, a whole apple fits in the container. Of course, you should still peel fruit with its skin on beforehand. Cores or stalks are not a problem. All the juicers I've tested so far didn't have this large filling hatch, which is a big plus for the Hurom.
2. Easy cleaning: The juicer consists of only 3 parts, which are easy to clean. These can simply be rinsed off under clear water. Only the part with the juice outlet has to be cleaned occasionally with a brush, depending on what you juiced before. Some vegetables have a lot of fibers and can easily settle around the parts. Overall though really easy to keep clean & another big plus. The juicer is the perfect choice, especially in the morning when things have to be done quickly.
3. Small and Convenient: The juicer is actually smaller than it looks in the photos. However, I was surprised that so many vegetables & fruits fit in the hopper despite its slim shape. For those who don't have space in the kitchen, the juicer is a good investment. It is also ideal for taking with you when travelling.

4. Good juice quality: the juicer is what is known as a slow juicer, thanks to the gentle pressing, all the important nutrients and vitamins are retained in the juice.
5. Juice cap on the juice outlet: There is a cap on the juice outlet that you can close while juicing. I find this very handy because you can mix the juice before you let it out.
.
.
.
Read more