HUROM HZ Slow Juicer Test 2021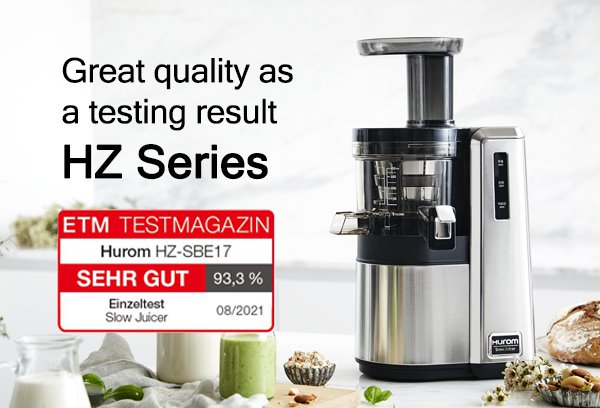 Hurom HZ Slow Juicer achieved in ETM TESTMAGAZIN – August 08/2021 Edition the top grade "VERY GOOD" with 93.3%. Here you can check out the summary of the article.
Hurom HZ Slow Juicer Test summary
Hurom's new HZ-SBE17 is of an all-round excellent quality:
…. What really impressed us is the slow pressing with 43 rotations per minute. Because thanks to the gentle pressing, there is no significant heat level inside the spiraling screw (t∅: +0.5 ° C at t0: 20 ° C), which maximizes the nutritional content of the juices. After all, the food does not oxidize as strongly as in models with other technology.
The model's opulent ensemble of accessories is really impressive: in addition to a coarse and fine sieve, thanks to which you can control the proportion of fruit particles, there is also another adapter that makes pressing mandarins, grapefruit, etc. much faster and easier can. Frozen fruits can also be processed with a special adapter, so that a completely smooth ice cream mass (nice cream) is created – a pleasure in summer that gets by with the naturally occurring fructose. The frame, on which the individual parts of the model can linger after being washed and washed, also proved to be valuable during the test: the water ultimately evaporates more quickly.