Comparison 2023 by TopRatgeber24 – Best Slow Juicer HAA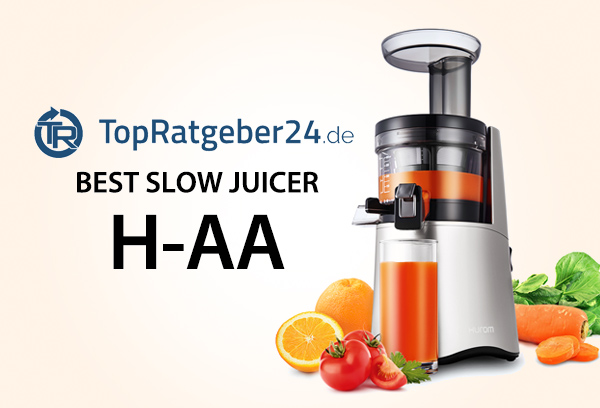 Hurom H-AA
With the Hurom Alpha (H-AA) juicer you will make the most delicious and vitamin-rich juices from fruits and vegetables. Compared to previous models (the HH2, HG2, HAT and HF2), the H-AA is equipped with a larger collection container – 500ML capacity. So you can squeeze more juice which is very convenient when you are squeezing for the whole family and the juices are mixed better.
Why should I choose the new 3rd generation H-AA?
The H-AA17 has a lot of power, even leaves, grasses, high fiber and hard vegetables are crushed. The Hurom Alpha is a juicer, smoothie maker and ice maker all in one. With the pulp lever in combination with the smoothie strainer you can regulate the amount of pulp in the juice individually, so you can make smoothies. With the ice strainer you make delicious ice cream at home with the same device.
New design and even quieter in operation
While the older Hurom models like the HG2 HH2 (Elite) and HF 2 were already quiet and pleasant to use, the H-AA gives the impression of being even quieter.
An easier pressing of leafy vegetables
Thanks to the perfection of the rotating extraction auger, pressing of leafy vegetables is made even easier. At the same time, the system ensures improved drainage of juice, clearer juice and cleaning of the device.